Police want to trace Anton Reynolds in connection with jewellery shop robbery
An appeal has been issued to trace the whereabouts of a man police wish to speak to in connection with a ram raid that took place in Shepherd's Bush last year.
Detectives say they need to trace 28-year-old Anton Reynolds in relation to the smash and grab on a jewellery shop on Uxbridge Road.
At around 5.20pm on 25 October 2019, 34-yar-old Ben Wegener and two accomplices drove a black Range Rover through the front of Smart Jewellery shop on Uxbridge Road, smashing the windows and narrowly missing the people inside. Dramatic footage of the ram raid was released by police earlier in the investigation.

Anton Reynolds
The robbers got out of the vehicle and then smashed the glass display cases using a sledgehammer and a hammer, and put items of jewellery into bags. By this time, a large number of onlookers had gathered outside. Having ransacked the store, the gang attempted to flee the scene running towards Shepherd's Bush Green. Wegener failed to escape after slipping and was detained by passers-by despite threats made by the robbers. Police say knuckle dusters were also used to try and intimidate members of the public.
Wegener has been sentenced to 10-years' imprisonment after pleading guilty to robbery, dangerous driving, and possession of offensive weapon, criminal damage and receiving stolen goods at a previous hearing. His two accomplices remain at large.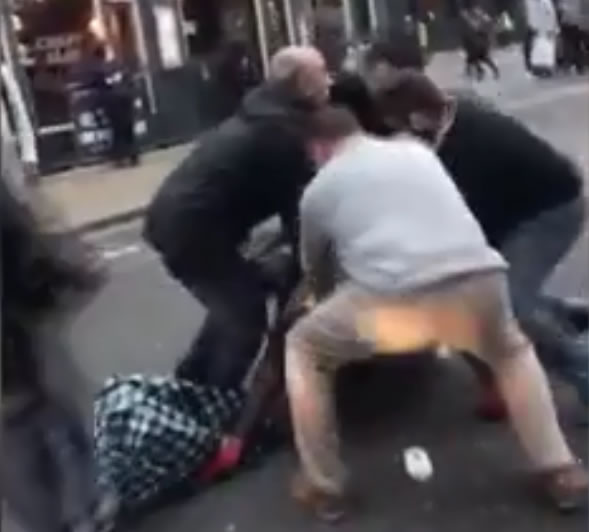 A group tackle one of the gang on the Uxbridge Road

Police arrive at the scene to complete an arrest

Detectives are now asking for the public's help to trace Anton Reynolds.
He is known to have links with Lambeth, and the Crawley area of Sussex.
Reynolds should not be approached, and if seen, members of the public should call 999.


May 26, 2020