Introducing Margaret Dabbs At John Lewis In Westfield
---
Foot health and beauty treatments including the Medical Pedicure
Margaret Dabbs London is delighted to announce an exciting venture with John Lewis to open a clinic at the John Lewis White City, Westfield, in London. This new offering provides 7 treatment rooms, a nail spa and a retail area.
Opening in February, the new clinic will marry up Margaret Dabbs London's expertise with the John Lewis retail offering to present a unique range of foot, hand and beauty treatments including waxing, massage, reflexology, slimming leg treatments and eyebrow and lash treatments and for the very first time, its Chiropody Style Perfecting Pedicures focusing on medical pedicures with podiatrists .
The famous Medical Pedicure is a thorough overhaul performed on any feet by a qualified Podiatrist which will leave you feeling like you are walking on air, with feet which look and feel brand new. This 45-minute treatment represents a complete overhaul for the feet, is suitable for all feet, however good or bad they appear and addresses the foot in its entirety. The medical pedicure is performed on a dry foot to ensure exceptionally long-lasting results and the feet are transformed via the safe, surgical removal of all dead and dry skin and calluses. The nails are shaped, buffed and re-hydrated, and the feet are left revitalised and glowing. This fusion of health and beauty utilises Margaret's own range of superb foot care products, expertly formulated and containing the hero ingredient emu oil, used for its anti-ageing, anti-inflammatory, anti-bacterial and moisturising properties.
With the Medical Pedicure, Margaret Dabbs has created the first entirely all-encompassing health and beauty regime for feet. This treatment will transform any feet and is extremely popular with both men and women, and covers treatment, prevention and care of the feet. It is hugely liberating, delivering instant and long lasting results for visibly healthy feet, which look and feel ten years younger.
Margaret Dabbs has a special offer for ChiswickW4.com readers.

Book a Medical Pedicure and receive a complimentary toe nail polish. Simply quote Chiswick W4 upon booking to claim this offer.

Bookings made before June 30th 2021
.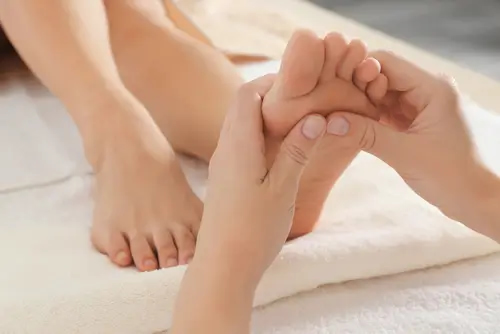 Advertorial

May 21, 2021