Comedian thanks fellow pilgrims and supporters after completing epic trek
Hammersmith's own Bill Bailey has completed an epic 100 walk along Europe's oldest road, The Ridgeway to raise money for Stand Up to Cancer.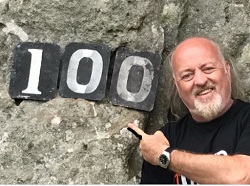 Before setting out, he said: "I'm passionate about helping charities and Stand Up to Cancer is especially close to my hear - not just because I lost my mum to the disease, but because I think the work they do, getting breakthroughs in the Lab to patients as soon as possible, is game-changing."
The comedian, who was accompanied by "a merry band" of friends, tweeted about his adventures throughout the six day walk @billbailey, concludingo July 30: " At Avebury Henge (No.1 in my Henge charts) after a 100 mile walk for @StandUp2C Thanks to my fellow pilgrim-walkers and all who donated."
Bill's Ridgeway Walk has so far raised almost £9,000.
Bill also blogged about his walk for the Huffington Post. In it, he says: " I've completed the hundred miles with my fellow pilgrim-walkers and despite the sore feet and aching limbs, we all feel a great sense of achievement. We've raised a fair bit for Stand Up To Cancer, and to be walking outdoors in England on the chalk downs or threading your way through ancient woodland is always good for the soul.

"I've been lucky to have such a good-natured and spirited bunch of walking companions. There's a great camaraderie among us that puts an extra spring in your step.
"I am very touched by all the support we've had along the way. The messages that accompany the donations on the website are very personal and heartfelt - loved ones are remembered and honoured. And on the walk, I received many acts of kindness and generosity. I was variously handed homemade flapjack, fruit cake, and some date slices that were left for me under a hedge with a luggage label attached.
"A particular highlight was the morning we spent with the good people of St. Botolph's Church in Swyncombe, near Nuffield in Oxfordshire. It was very wet morning and spirits were sagging but members of the congregation braved the rain to come out and cheer us in."
You can read the entire blog here and hep boost the fundraising total here.
August 4, 2017
August 4, 2017