By starting to recruit staff and apply for licence for seven storey store
The new John Lewis store in Westfield London's extension has begun preparations to open next spring by beginning to recruit staff and apply for a premises licence.
The application for a licence also reveals details of the new store, describing it as a department store over seven floors.
The application includes late night sales of alcohol, till midnight in a wine bar and restaurant planned for the first floor of the building, and a Place to Eat Restaurant with an outside terrace on the third floor, alongside a dining room by John Lewis Partners, which also has its own terrace.
The application in full is as follows:
2017/01352/LAPR: John Lewis: Unit 0250 Westfield London Shopping Centre Ariel Way London W12 7FU.
Licensing Act - Premises Licence Department Store over 7 floors licensable actvities sought: Sale of alcohol on and off the premises Monday to Sunday
08:00 to 00:00 Late night refreshment indoors and outdoors Monday to Sunday
23:00 to 00:00 Hours open to the public Monday to Sunday 08:00 to 00:00 (Sale of alcohol for consumption on the premises and late night refreshment to be restricted to the wine bar and restaurant on the first floor, Place to Eat Restaurant with outside terrace on the third floor and the John Lewis Partners dining room also with terrace and also on the third floor.)
You can find more details here.
John Lewis has also begun recruiting staff at the store with vacancies available now for section managers and catering assistants.
The store says these roles are expected to begin around February or March 2018.
You can find the details of these jobs, and look out for future opportunities on the partnership's website.

When the new store, north of the existing shopping centre, were first announced four years ago, it was planned to employ around 600 people and stock over 350,000 lines including fashion, homeware and technology.
At the time, Michael Gutman, Westfield's European managing director, said: "John Lewis is the most requested store at Westfield London and we are delighted that we will soon be able to deliver on this for our customers.
" The new store will be another huge attraction to Westfield London and will become an important centrepiece of the massive regeneration taking place in the White City Opportunity Area, with the creation of thousands of new homes and jobs."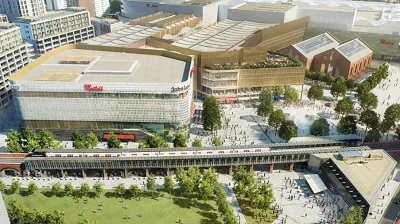 Overview of the new store
October 15, 2017