And three year redevelopment programme begins
Hammersmith's famous Riverside Studios has closed and a three year redevelopment programme which includes the demolition of the iconic 110 year-old building has begun.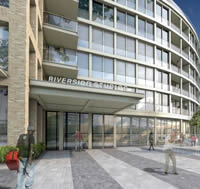 The new six to eight storey building will have 165 flats with balconies and roof terraces as well as commercial floor space for television and film recording studios, and there will be a new riverside walk along the frontage of the site facing the River Thames.
The redevelopment has proved highly controversial. As we reported last November Riverside said that famous faces from the world of theatre and entertainment, including Jo Brand, Bill Bailey and Simon Callow joined Artistic Director William Burdett-Coutts in supporting the scheme.
However, other well known figures including playwright and local resident Stephen Poliakoff, actresses Harriett Walter and Francesca Annis and artist Sir Peter Blake condemned the plans, and local groups, including The Crisp Road Residents' Association, Hammersmith Embankment Residents Association, the Hammersmith Society and The Queen Caroline Residents and Tenants Association have also expressed their reservations about the scheme.
However, William Burdett-Coutts says: " Our existing facilities and the neighbouring Queen's Wharf will be replaced by a new building across both sites.

" Riverside Studios will have much improved facilities including three studios, a cinema and screening room, a community & rehearsal area and a much enhanced public entertainment space.
" The river walkway will be opened up across the front of Riverside Studios and Queen's Wharf. The new Riverside Studios will inhabit the ground floor and parts of the basement, first and second floors, with the remainder of the building being apartments, built by our development partners, Mount Anvil and A2 Dominion.
" The new foyer will look out on to the river with a variety of restaurants and bars. "
In the last few weeks, Riverside has held a free exhibition of its history, including many previously unseen images from its past. And while this is closing along with the studios, you can still go online and visit the studios' website offering a glimpse into its long and glorious history, as home to some classic British films in the 30s and 40s and many BBC TV shows from the 50s onward, including Hancock's Half Hour, Z Cars, Dixon of Dock Green and early episodes of Doctor Who (who were to share the same phone box) and music shows including The Old Grey Whistle and Top of the Pops - which was based there in the 60s and returned 40 years later.
You can see all this and more at Riverside Studios Timeline.