Police want to know who was in the white Range Rover spotted at the scene

Alexander Kareem. Picture: Met Police
An award of £10,000 is being offered for information about the shooting of Alexander Kareem in Shepherd's Bush earlier this month.
The independent charity Crimestoppers is offering the money for information that they receive anonymously that leads to the arrest of the person or people responsible for the murder.
At the same time the police are continuing to investigate the killing of 20-year-old Alexander who was gunned down on Askew Road on Monday, 8 June at 12.40am as he walked back from the convenience store.
The investigation continues to focus on a white Range Rover Evoque which was seen at the location of the shooting and then found burnt out in Ealing 25 minutes later.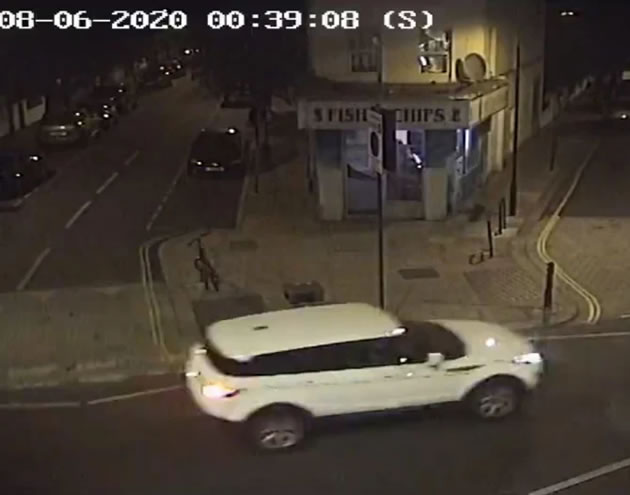 The White Range Evoque pictured near murder scene. Picture: Met Police
DCI Wayne Jolley, said: "We continue to work round the clock to find answers for Alexander's friends and family. We are appealing to those who have information to call and say what you know. There are people out there who know who was in the white Range Rover that night. You are protecting someone who has committed a terrible crime and needs to be brought to justice. Please think of Alex's family and friends who deserve to know what happened to him.
"We are hoping this significant reward, put up by Crimestoppers, will encourage people to come forward. It is 100% anonymous.
"There continues to be additional patrols in the area and we want to reassure the public that we will do all we can to bring those responsible to justice."
Alexa Loukas, London Regional Manager at the charity Crimestoppers, said, "Our thoughts are very much with the family and friends of Alexander after this tragic murder. He had a great future ahead of him and his life has been senselessly cut short. If you know who was responsible or have any information, no matter how small, please speak up and tell Crimestoppers. This is your opportunity to do the right thing. We are offering this reward because his family deserve to see justice for Alexander."
Crimestoppers, as an independent charity, promises of 100% anonymity each and every day to those who trust them with their crime information. Share what you know by calling their UK Contact Centre on 0800 555 111, 24 hours a day, seven days a week or use the website's anonymous online form at www.crimestoppers-uk.org. No one will ever know your identity. They cannot trace your call or track your IP address and will never ask for or record any personal information.
If you're a young person, you can also report anonymously via Crimestoppers' dedicated youth service by visiting Fearless.org. Your information could also keep someone else safe from future harm.
To claim the award you must give the information to Crimestoppers directly rather than to the police.

June 26, 2020