Number of Children At Local School Raised in Parliament
---
MP says Wendell Park Primary attendance shows we have lockdown in name only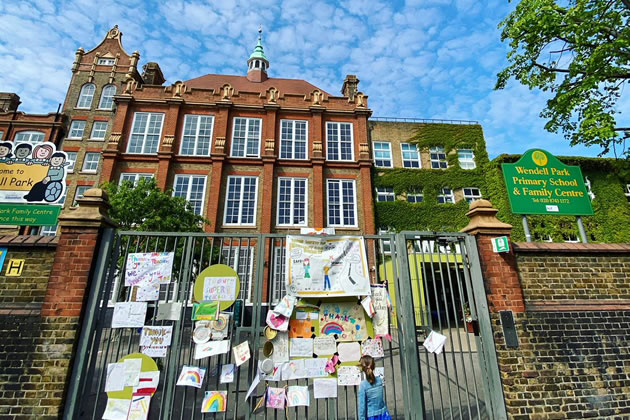 Messages of support for staff on the school gate. Picture: Wendell Park Primary
The issue of the number of children currently attending school locally has been raised in parliament during Prime Minister's questions this Wednesday (13 January).
The MP for Hammersmith, Andy Slaughter was prompted to ask Boris Johnson the question after receiving a letter from Elena Hough, the deputy head of Wendell Park Primary School in his constituency.
She told him that she felt a lack of Government guidance means that her staff will soon be teaching over 100 children in school—10 times the number in the first lockdown.
Mr Slaughter said in the House, "Having a lockdown in name only may suit the Prime Minister. He can feign tackling the virus while tipping the wink to his anti-lockdown Back Benchers and bending the rules himself, but as Miss Hough says, her pupils and staff, who, like all Hammersmith schools, are doing a fantastic job under the most difficult of circumstances, deserve better. Why are they being hung out to dry by the Prime Minister and his Education Secretary?"
In response the Prime Minister said, "I thank very much all the schools in Hammersmith, and indeed throughout London and throughout the country, who are working so hard to look after vulnerable kids and to look after children of key workers. At the moment the percentage in school is about 14%, which is, as the hon. Gentleman will appreciate, higher than it was in March. I think the gist of his question was that schools should be closed altogether. I do not think that is right. I think what the country wants to see is the children of key workers and vulnerable kids getting the education that they need. I thank very much the teachers and all the staff involved for making that possible."

January 18, 2021