Richard Burke inspired to support the Wormwood Scrubs Pony Centre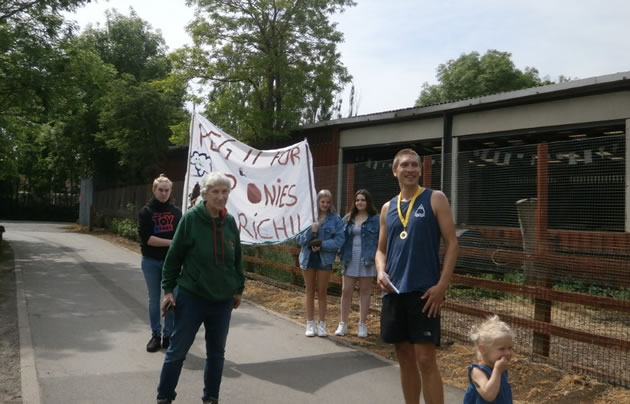 Richard Burke at the Wormwood Scrubs Pony Centre
A 45-year-old company director and father of two decided to use the extra time made available to him due to lockdown to raise funds for the Wormwood Scrubs Pony Centre.
Even though Richard Burke has never ridden a horse himself, he was inspired to help the local equestrian charity for children and young people of all abilities, that has seen its income plummet drastically.
Having trained intensively for the six weeks, he successfully completed the thirteen miles on V.E. Day to benefit the twenty horses and two donkeys who provide therapeutic riding for children in the area. It was his first ever half marathon.
Richard found the experience of training on Wormwood Scrubs gave him a real sense of well-being, and his preparation was so effective that during the actual run he felt calm and relaxed. Although this fundraiser is a new experience for him, he did not anticipate how much he would enjoy it, especially as word got around and donations began to come in from complete strangers.
He actually started with the intention of raising one thousand pounds, and then as the total surpassed that, he was delighted to discover that, through his commitment, almost £3,000 has been raised to date. The funds will enable the transformational work at the centre to continue.
The Wormwood Scrubs Pony Centre was founded in 1989 by Mary Joy Langdon, and has a remarkable purpose: "to help children to hold onto their innocence by allowing them to be with ponies in a safe and supportive environment".
Through the dedication of the staff, volunteers, and ponies themselves, lives have been transformed, and many families have experienced the joy that connecting with a horse can bring, especially to a child with a disability.
If you would like to contribute to this life changing charity you can still support it through Richard's fundraising page online.
May 20, 2020