Offering would be inventors of all ages access to advanced technology
The Invention Rooms, the first space of its kind to be launched by a UK university, will include workshops, design studios and an interaction zone for people to connect with Imperial's work, and with be inspired by fellow creators.
Young inventors will be challenged to create devices such as wearable tech gadgets, intelligent robots or even smartphone apps, using 3D printers, laser cutters and computer coding.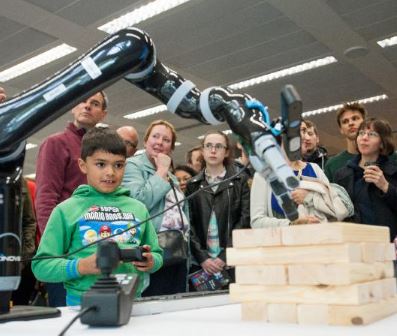 The Invention Rooms will contain three zones:
Reach Out Makerspace is a for children and young people to gain hands-on experience of entrepreneurial thinking and prototyping.
Advanced Hackspace is a cutting-edge workshop for students, staff and partners to work together in solving challenges and turning ideas into innovative inventions.
Interaction Zone is a venue for public events, where local
people and college partners can connect with science and research.

Under the same roof, Imperial staff, students, alumni and enterprise and business partners, together with members of the community, will join forces to use technology to convert research ideas into breakthrough prototype products.
The new space extends Imperial's existing network of hackspaces, which already include the Dyson School of Design Engineering at South Kensington and the National Heart and Lung Institute at Hammersmith Hospital.
Targeted for completion in mid-2017, The Invention Rooms will transform a disused former office building in Wood Lane into a community hub.
It will be one of the first buildings to open on Imperial's new White City campus, where Imperial and its partners work to tackle world challenges.
The campus will provide space for research, collaboration with corporations, institutions and start-ups, as well as activities to engage the community. Prof Maggie Dallman, Associate Provost at Imperial, added: "The Invention Rooms is about throwing open our doors to our neighbours and channelling their energy and ambition into creative projects. "There's so much we can learn from this community, and their perspectives and experiences will help shape the research taking place at our new campus."
Michael Taylor, headteacher of Phoenix Academy, White City, sees the potential. "As a school close to Imperial's new campus, this is an exciting project for us.
"It is a chance to bring our pupils into contact with leading research and technology, which will be an eye-opener for them. We're looking forward to the new learning opportunities."
Welcoming the new space, Cllr Stephen Cowan, Leader of Hammersmith & Fulham Council, said: "This will enable people in White City to connect with a world-leading university like never before.
"By bringing together Imperial's expertise with the talent and aspirations of the community, we can encourage the next Steve Jobs or Robert Winston – who may be growing up in White City – to fulfil their potential."
January 23, 2017