QPR Community Trust part of special class at St John XXIII Catholic Primary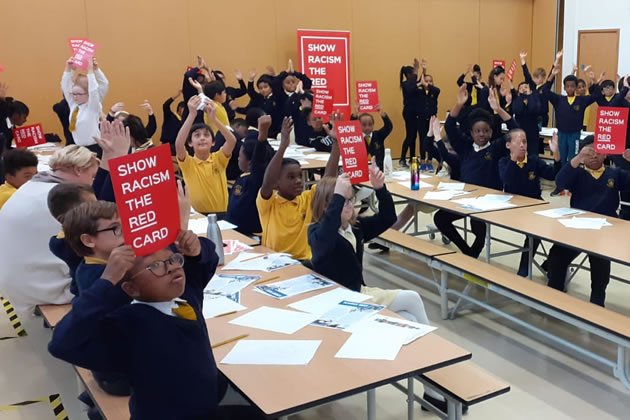 Children at St John XXIII Catholic Primary School
Children at St John XXIII Catholic Primary School in White City were joined in class by local football stars recently.
Show Racism the Red Card (SRtRC) and Queens Park Rangers (QPR) Community Trust combined to provide some anti-racism lessons in the school.
In the charity's first ever virtual educational event over 50 Year 5 & 6 Primary school pupils were able to take part in workshops delivered by SRtRC and the QPR Community Trust respectively – including a screening of SRtRC's new educational film, followed by a Q&A session with some special guest panellists where the young people were able to talk to their sports heroes about racism.
Former Manchester United player Paul Parker, former England international Trevor Sinclair, former Newcastle United goalkeeper and SRtRC Honorary President Shaka Hislop were joined by QPR's own Luke Amos and QPR Women's own Kasha Petit to answer the young people's questions over Zoom.
Kasha Petit, first team player at QPR FC Women, said, 'The event was very insightful and highlighted how much of an honour it is to be a part of a club that supports equality and diversity so strongly as well as giving local schools opportunities to ask questions, learn even more about the community around them and hear from different players experiences within the game.'
Charlotte Edwards, Equality, Diversity and Inclusion Lead at QPR Community Trust, said, "SRtRC deliver workshops in such a way that engages young people and prompts them to ask questions. By highlighting the importance of anti-racism and exploring the roots of culture, ethnicity, race and religion, they're able to educate and encourage them not to be afraid to ask questions or speak out.
"This is the second year we have teamed up with them to deliver workshops with schools, this year tying in with our support of Black History Month."
Show Racism the Red Card (SRtRC) was established in January 1996 and has a 24 year record of aiming to combat racism in society through education, the production of films and the utilisation of high-profile footballers and clubs to publicise its message.
Ramandeep Dole, Primary Stars Co-ordinator at QPR Community Trust, added: "For the first time, we had virtual attendances from footballers around the world. The students were able to ask questions and hear the stories of such fantastic ambassadors and it really brought a fresh take to our delivery and enabled us to invite speakers who may not have been able to have attend in person."
Steve Goodsell, Regional Manager for South East England at SRtRC, said, "Working with QPR in a local primary school was a first for both organisations and it is an example of how we can take the best of a traditional football club directly into the community. Here, young people benefitted from taking part in engaging workshops on racism in society – but they were also able to pose real questions about issues on racism to our panel of role models, made up of current and former football players from QPR and other iconic clubs.
"As an added bonus the classes were even joined by Shaka Hislop - President and founder of Show Racism the Red Card. We hope to continue working with football clubs in this way in order to reach as many more young people as possible and continue the fight against racism through education."
November 9, 2020