Be among the first to visit and enjoy a host of special offers and events
The eagerly awaited £600 million Westfield expansion has opened at 10am this morning, 20 March, with crowds of shoppers gathering to watch the curtain being dropped.

The extension, with 24 openings including a John Lewis store is open till late and visitors who are among the first to visit the centre's new stores can enjoy a host of special discounts, special offers, free giveaways and fun opening events.

The massive new John Lewis store, stretching over four floors, is celebrating official opening day by hosting a series of events and talks throughout the day. From 10am until 8pm, there will be:

Coffee tasting and demonstrations
Personal Stylist talks
Free tasting samples
Home Design trend talks
Free Madewell personalisation with any purchase
Easter crafting workshops
Double points for Partnership Card holders.

23 other stores are also opening tomorrow, with
many many running their own range of special deals, freebies and fun events.

Here are ten of the highlights:

Receive a free luxury tote bag if you're one of the first 100 customers to shop at Space NK. You can also win £1000 worth of beauty products if you unlock the Beauty Vault, receive a Beauty Edit gift bag if you spend £100 or more on the day and experience mini facials and makeovers in-store.

Come along to the launch of the brand-new adidas London stadium inspired store. The store will feature top-of-the-range technology, with Test & Create areas in the football and running zones, where you can take products for a test run. A Sutu Wall in the football zone will put your ball skills to the test with a number of interactive games to test your accuracy and ball handling.

H&M is inviting shoppers to the launch of its first ever nail bar in partnership with Go Gorgeous London, offering both Express and Luxe manicures plus exclusive nail art designs. Sign up to H&M Club for an exclusive launch offer and collect a H&M gift card if you're one of the first 100 customers in the queue.

At West Elm enjoy free workshops throughout the day including a paper flower masterclass with A Petal Unfolds, brush lettering with The Lovely Drawer and lino printing with Emily Dawe. Pop in for sweet treats and coffee and gin cocktails in the evening, thanks to Travelling Gin Co.

Win Bo Concept's iconic Chair Imola (worth £4,100) by entering their Grand Opening competition*, and join us for fizz and Danish nibbles from 12pm as well as a host of great opening offers. *T&Cs apply.

Receive a goodie bag if you're one of the first 100 people to walk through the door of The White Company. Help celebrate the launch with bubbles and truffles.

Get free frozen yoghurt if you're one of the first 100 customers in-store at the world famous frozen yogurt retailer Pinkberry.

Enjoy balloons, free samples and makeovers at the new Boots UK health and beauty store.

Create your very own Lush bath bomb, and come at 11am to make a Twilight themed bath explosion, or at 2pm you can create your own Dragons egg at this exclusive in-store event.

Grab a free goodie bag if you're one of the first 50 customers to spend £10 or more in Flying Tiger's new Westfield London store. Take part in a prop-based photo opportunity to win in-store credit and celebrate with a day of sweet treats.


You can see a full list of shops opening on Tuesday and what they are offering on Westfield's new arrivals page.

The new Westfield 2 is set to open in three phases, with the launch fully completed for its tenth anniversary celebration on 30 October. By then it will have added 90 new stores, making the Shepherd's Bush shopping centre the largest in Europe with a total of 450 stores.
These first stores will be joined over the coming months by a long list of beauty and fashion stores, including Primark, Urban Decay, Bravissimo, men's fashion brands Frencheye and Emperor and Chinese fashion brand Urbano Revivo - launching its first store outside Asia.
The extension will also have a Japanese Food Hall Ichiba, boutique bowing venue All Star Lanes and a new indoor minigolf gaming centre plus bar and restaurant called Puttshack. Puttshack will launch within the new development and both applications for jobs and bookings are now open at its website.
FirstLight Cycle meanwhile, will open in May providing the UK's largest boutique cycling studio.
Westfield says that adding its extension has also allowed some stores currently based in the existing centre to move to bigger spaces in the new extension.

You can find out about jobs on offer at Westfield on its website and WorkZone Online. You can also visit WorkZone, based within Shepherd's Bush Library at Westfield for more about jobs and training opportunities.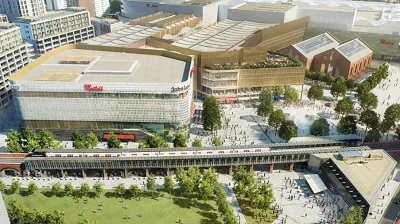 March 14, 2018